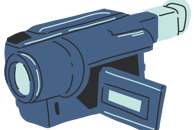 On 06/05/2023 Charles was crowned the new King of the United Kingdom. Protests across the British Isles took place apposing the coronation and the monarchy in favour of a republic nation.
This Vale is cartoon set in the Welsh valleys that has gathered a cult following among the residents of the town it is based on (Ebbw Vale). This video follows the creator (Adam Llewellyn) as he returns to his home town to screen the final episodes in the Market Hall Cinema (the oldest cinema in Wales).
Patrick Goddard is a comic book artist best known for his work on 2000 AD and the Judge Dredd Magazine. This film uncovers his journey to becoming a professional artist and his thoughts on the future of art in relation to AI.
Lewis Clayton is a rock and roll musician from South Wales. He plays lead guitar and sing for the band 'The Sunsets' - one of Wales' oldest rock and roll groups. Lewis is fighting to keep the rock scene alive with his electric / passionate performances.